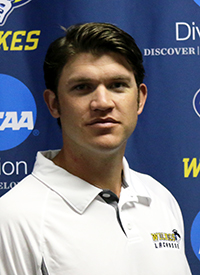 Head Lacrosse Coach
Curtis Jaques
Curtis Jaques
Head Coach
Phone: 570-550-3598
Email: curtis.jaques@wilkes.edu
Curtis Jaques begins his fourth season as the head coach of the Wilkes University men's lacrosse team.
Over the first three seasons of the program rebirth (2016-18), Jaques has led the men's lacrosse program to statistical growth across the board. The team has seen increases in a wide variety of categories, but most noticeable are the jumps in groundballs-per-game (81% increase), assists-per-game (76% increase), points-per-game (70% increase), shot percentage (67% increase), and scoring offense (63% increase).
In 2018, Jaques led Wilkes to 8 wins, a new high, and three wins in conference play as the team finished in the a four-way tie for the final MAC Freedom tournament spot. Jaques also coached four all-conference performers, placing two on the second team (JT Weitzel, John Wink) and two on the first team (Nicholas Ruggiero, Garrett Armstrong). Ruggiero and Armstrong additionally earned All-ECAC honors for their performances on the first and honorable mention recognition, respectively.
In 2017, Jaques reached several milestones for the program, including the first victory (2/25 vs Keystone) and first MAC Freedom victory (4/19 at DeSales). The Colonels won four games during the regular season, and placed two players on the all-conference teams (Evan Stolicker, first team; Weitzel, second team).
Jaques took hold of a rebirth of a program in 2016 that competed at the varsity level throughout the 1970's, capturing a Middle Atlantic Conference (MAC) championship in 1975. The 1975 squad was also inducted into the Wilkes Athletics Hall of Fame in 2007-2008.
Jaques comes to Wilkes after five seasons on the sidelines as an assistant coach for the VMI men's lacrosse team, a program near and dear to the 2007 alumnus. While at VMI, he worked primarily with the team's offense as well as serving as the program's recruiting coordinator.
Jaques returned to VMI after a two-year stint at SUNY Geneseo, where he worked with the defense and served as top assistant to head coach Jim Lyons. At Geneseo, Jaques helped guide the squad to a No. 13 ranking in the final 2009 USILA Division III poll. The team also went undefeated in regular season conference (SUNYAC) play, before falling to No. 7 Cortland in the title game, 14-13.
Jaques graduated from the Institute in 2007 with a double major in International Studies and Modern Languages and Culture (German). He was a team captain in 2007, and was the Keydets' No. 1 defenseman during then-coach Jeff Shirk's first campaign in Lexington, when Jaques was named preseason All-MAAC selection as well.
A native of Rosemont, N.J., Jaques is married to his wife, Alecia. The couple has two children, Ava (4) and Leona Claire (2).